Bali's fascinating culture and natural beauty has drawn visitors and explorers for more than a century. It's many ceremonies, whether a full moon, a tooth filing or even a cremation ceremony, are wonderful opportunities to explore the culture of this magical island and its people.
A "Must Do" - Sunset at Uluwatu Temple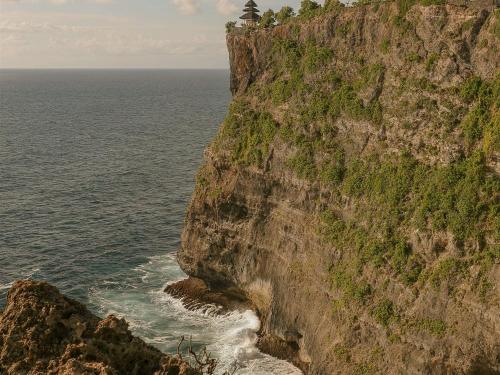 Only 25 minutes away, on the most south western point of Bali, one of the island's most significant temples perches 120 meters above the ocean. Uluwatu's captivating vistas over its rolling surf and beautiful sunset are a must for every visitor in Bali. Combine an Uluwatu sunset tour and the famed Kecak dance with a truly authentic Indonesian dinner prepared by our own chefs at your villa upon your return or at Bumbu Bali restaurant, known for its wonderful "Rijsttafel dinners".
This is a wonderful way to immerse into the local culture and help you slow down to the pace of Bali; our recommended activity for your very first day……
Seeing Bali's most renowned sights
Your Villa Manager can arrange private tours for you to visit some of Bali's most known sights including pick up from and drop off at your villas. For both the Peak Season and the High Season, it is recommended to make bookings prior to arrival in Bali.
Outdoor Activities
There are several exciting half and full day outdoor tours, suitable for the whole family available through professional tour organizers who will arrange for pick up and drop off at your villa and transfers. Some of the most popular outdoor tours are:
White Water Rafting Ayung river Ubud
Bicycling down Mount Agung to Ubud
WaterBom
South East Asia's most exciting waterpark and a perfect day out for the whole family. WaterBom offers a large variety of spectacular water rides and slides and a choice of dining outlets and a swim-up bar. WaterBom is located directly opposite the Discovery Shopping mall and a short walking distance from Kuta's main beach.